ABOUT
NAMON - The New Symbol of Yourself.
NAMON is a personal Logo/Monogram based on your name.
The design symbolizes your identity, aspirations and favorites.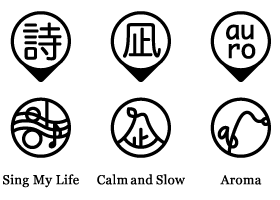 For making a NAMON, you can..
use your initials in alphabet, or represent your name in Katakana/Hiragana, or even translate your name into Kanji.
*Katakana: a Japanese phonetic script used for foreign words.
*Hiragana: another Japanese phonetic script used for japanese traditional words.
*Kanji: …complex chinese characters!
EXPLORE NAMON:
DATE | CHARACTER | COLOR
PRICE
€100

for one person
unlimited design revision by Email
PDF, JPG, PNG format ( AI + €30 )
CREATION PERIOD
2 months or more
DESIGNER

ASAMI FUJITA (藤田朝美)
From Japan. 2014- Berlin
NAMON itself is my creation, following KAMON; Japanese traditional family crest.
NA(名)means name, MON(紋)means crest.
◯
TV » World Business Satellite (TV Tokyo)
NEWSPAPER » Kanagawa Shimbun
WEB » Excite Bit » TV Tokyo » TokyoWalker » GIZMODO 
RADIO » JFN DAILY FLYER 
INTERVIEW » RealInamuraEstate » Histy
EXHIBITION » Hayama Art Festival
◯
Works
» Graphics・Exhibition etc
Works – web
● hachinoki.co.jp ● mstudio.jp ● gyrotonickamakura.com ● konrei.net ● roji-kamakura.net ● defi-fleur.com ● misono-green.co.jp ● kamprint.com ● takaranoniwa.com ● middles.net
FACEBOOK